Here at Dr Brown's we're really excited about the launch of our new Manual Breast Pump.  It's been designed by lactation consultants and actual breastfeeding mums so you can really expect something very special from our latest product.  It features gentle compression technology to avoid any annoying tugging and pinching, and a super-soft flexible breast cup that mimics baby's sucking motions to encourage stress-free let-down.  See here for more info.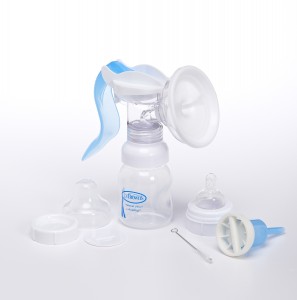 What do I get inside the box?
1 x Dr Brown's Manual Breast Pump
1 x Vent/Reservoir /Wire Cleaning Brush
1 x Level 1 Teat with collar and lid
1 x Screw Cap Lid
It's easy, just pump & go!
When you've expressed your milk using our new pump,   simply unscrew the bottle from the unit, add the lid   and place in the fridge for later. Alternatively, fit the supplied vent, reservoir and teat and convert  into a 120ml feed. Easy!
Where can I buy the new Dr Brown's Manual Breastpump?
The Dr Brown's Manual Breastpump is available through larger Boots stores and online at www.Boots.com  www.johnlewis.com and here
Easy to Assemble
The Dr Brown's Manual Breastpump is REALLY easy to assemble. The product comes with full instructions but if you have any queries our Customer Service Team is always on hand. Call 01538 399541
Get in touch!
We hope you'll enjoy using our new Manual Beastpump. We'd be really delighted to receive your feedback. You can comment here on the blog or alternatively email us info@drbrowns.co.uk or contact us on Facebook @DrBrownsNaturalFlowUK
Let us know what YOU think of our latest product.