You've spotted the differences, but how does the Dr Brown's Natural Flow feeding bottle work?
Dr Brown's Natural Flow baby bottles have a patented internal blue vent: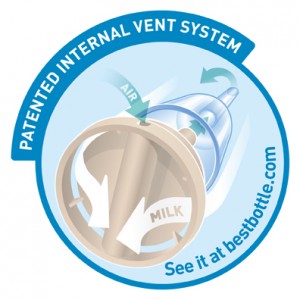 The Dr Brown's Natural Flow baby bottle features a unique, patented system with an internal blue vent designed to create a "vacuum free" environment.
Traditional and restrictive vented bottles tend to develop vacuums because babies have to suck progressively harder on the one hole in the bottle to obtain the liquid.  This causes the teat to collapse and baby has to stop feeding.  Air enters the bottle when the teat re-inflates: this air is ingested and can cause colic symptoms.
Eliminating the vacuum and air bubbles in the feed helps to reduce colic and burping.  78% of Healthcare Professionals agree that the most common cause of colic in young babies is caused by digestive or feeding problems, including swallowing air.
To see a full explanation log on to www.bestbottle.com
Dr Brown's Teats
Dr Brown teats are made from the softest, highest grade silicone available so you will never experience teat collapse.
A range of 6 teat sizes/flow speeds are available to grow with your babies needs:
–        Preemie Flow
–        Level 1 – Birth to 3 months (on every bottle)
–        Level 2 – 3 months to 6 months (most popular speed)
–        Level 3 – 6 months +
–        Level 4 – 6 months + Hungry Babies
–        Y Cut Teat-Allows thicker feeds which would block the hole of a normal teat.
Over half of those changing to a Dr Brown's Natural Flow bottle saw an improvement in 3 feeds or less, outperforming any other brand, so take advantage of the 20% discount offer and try the unique bottles for yourself today– visit www.drbrowns.co.uk