Due to the disappointment for some of you Prima Baby Subscribers, we are offering an exclusive 20% off discount on all Dr Browns products. This offer runs till the 20th of October!
Traditional and restrictive vented bottles tend to develop vacuums. This is because babies have to suck progressively harder on the one hole in the bottle to obtain the liquid. This causes teat collapse and baby has to stop feeding. This is when air enters the bottle when the teat reinflates; and air then becomes ingested by the baby which can cause colic. 78% of Healthcare Professionals agree that the most common cause of colic in young babies is caused by digestive or feeding problems, including swallowing air.
Dr Browns Natural Flow baby bottle, is recommend by 9 out of 10 Healthcare Professionals. It is also the only vacuum free feeding bottle.
We stock a range of products including sterilisers, trainer cups and our limited edition pink and blue natural flow baby bottles!
All you have to do, is choose any Dr Browns products that you would like to order, and then enter the promotional code PB151012 at the checkout! It's easy!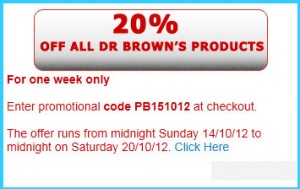 So what are you waiting for!?