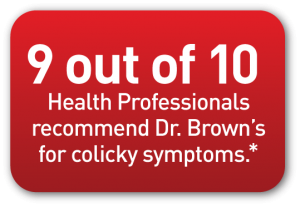 At Dr. Brown's, our focus has always been to create innovative feeding products to promote good health and optimal nutrition for your baby.
Designed by a doctor, Craig Brown in 1996 and patented in 1997, Dr. Brown's Natural Flow® is the only baby bottle to feature an internal vent system that: helps preserve vitamins C, A, & E by minimising oxidation of breast milk and formula.  It also provides positive-pressure vacuum-free feeding similar to breastfeeding; which helps reduce colic and wind by eliminating negative pressure and air bubbles.
Dr. Brown's Natural Flow® baby bottles are BPA-free, and have received numerous design awards and acclaim from the medical community.  9 out of 10 Healthcare Professionals recommend Dr Brown's Natural Flow for colic relief.
To find our more and to see how your baby could benefit  from using Dr Brown's Natural Flow log on to www.drbrowns.co.uk.
Remember we're still offering 20% off the whole Dr Brown's range on line – offer ends midnight Saturday 20th of October, so hurry!